I've been shooting regularly for 38 years, carrying daily for 32 years, and I've been a firearms instructor for 21 years.  I've done historical leatherwork for 30 plus years, but also morphed into doing concealed carry gun leather over 20 years ago.  Based on that background, I have opinions on what constitutes a good carry holster, and some of that knowledge is hard won.
In law enforcement, carrying daily in uniform with a duty belt and holster was never an issue.  We would occasionally do plain clothes assignments and would be issued holsters out of inventory.  Those holsters seemed to wear a sore spot on the hip, and at the end of a long day, you were bruised, and in pain.  The prospect of getting up the next day and putting that holster back on in the same spot would often give me pause.  There is a saying that carrying a defensive firearm is not supposed to be comfortable…it's supposed to be 'comforting'.  I understand…but respectfully disagree. 
Using my leather-working background, I set out to address the issue.  Those holsters we were issued were molded to the pistol correctly and had a curvature in the back to 'somewhat' fit it to the hip.  I say 'somewhat', because if it didn't fit your hip particularly, you were in for a painful experience.  To correct this, I started by making a wet molded pancake holster, setting the loops far apart to distribute the weight of the pistol over a greater area, and better pull the pistol into the body.  I put in a 15 degree cant which hides the profile of the pistol in the torso, and keeps the butt of the pistol from sticking out the back of the shirt.  However, I left the hip molding as a final step which is a 'dry' molding, completed by the individual user.  The result?  It worked!  I've now worn this type of holster nearly 20 years, in complete comfort.  I've also made these holsters for friends, who've also raved about the comfort.  Problem solved! I've found that I could apply some of these same concepts to ankle holsters, which allows you to carry a second gun, comfortably and discreetly.
Speaking of discretion, it's been my observation that many will dive into the concealed carry lifestyle, to include getting additional training (which is a must).  However, they will also in many cases start wearing tactical boots, tactical pants, gun logo shirts, and gun logo hats.  Even if the gun itself is properly concealed, the mode of dress becomes a giveaway.  You can spot a 'gun guy' from across the Walmart parking lot.  Mind you, there is nothing wrong with proudly proclaiming your lifestyle, it's your absolute right.  However, if you are wanting to be discreet, then good solid work boots, or even sneakers are better.  Replace the tac pants with bluejeans and get a button down or pullover shirt without logo…same for the hat.  There can be advantages to not drawing attention to yourself…to coming in 'under the radar'.  We call it being 'gray'.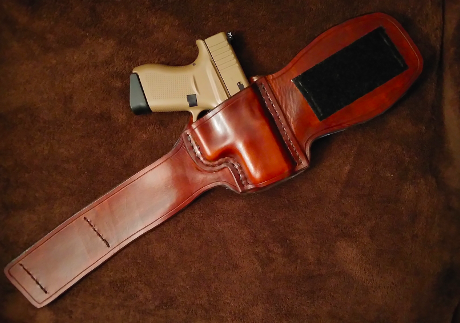 If you find that carrying your defensive firearm is uncomfortable, there are three things you can do.  One, come in to Openrange, and let our experienced staff guide you in your holster choices, try a few on and see what you think. Two, if you get 'off the rack' gun leather, we order from Galco and usually it's a good choice.  Three, you can do a google search for custom hand-made gun leather.  Custom costs a bit more, usually has a longer waiting period yet it could be worth the investment. In the end you will ultimately find that carrying a defensive firearm can be both comforting AND comfortable.