Re-Gear & Earn Gift Cards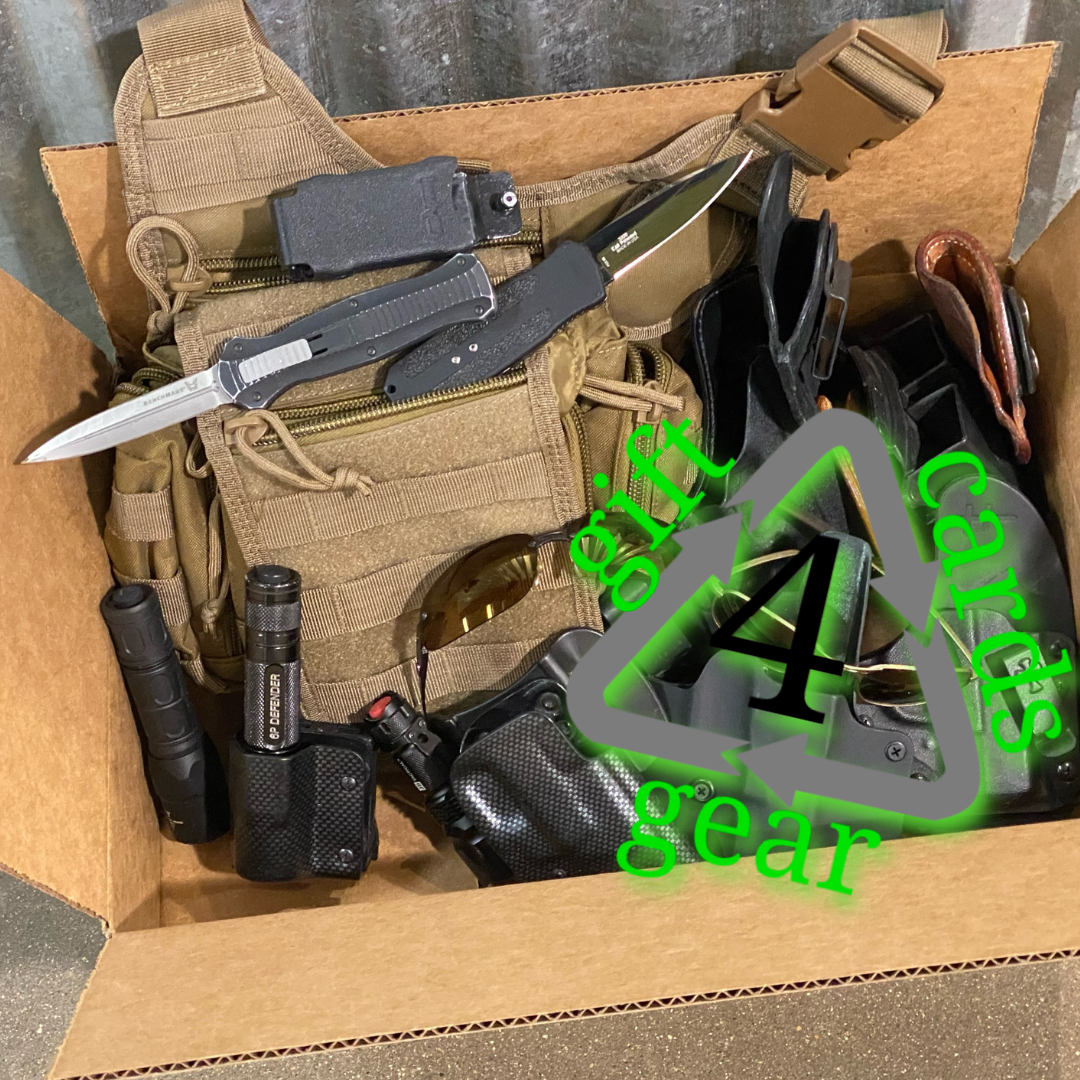 Clear out Gear. Support the shooting sports.

  Shooter have drawers of gear: guns, holsters, optics, flashlights, knives… it    never ends. I have holster for guns I sold years ago! Turn that gear into gift    cards for new gear you want.

  Step 1: Clear out your excess gear.
  Step 2: Bring your box of gear to Openrange
  Step 3: Openrange will photo document gear
  Step 4: Within 1 week Openrange extends our price. You agree then    we mail your gift card.
  Step 5: Openrange sells your items & re-gears others!

What to expect:
* More gear you bring, higher value of gift card.
* Value to us is perhaps 15%-20% of the original pre tax cost depending on condition etc.
* Newer, hardly used items may have even more value.
* Condition is important. Beat up gear loses value quickly.
* Age is important. Early technologies lose value quickly.
* Some items have no dollar value. We will have a "free" pile for members to choose from or return those items to you.
* We will email you confirmation of the offer within 7 days.
* The offer is the offer. No picking through your gear or haggling.
* Openrange then sells items to support the shooting sports and re-gears shooters.

Guns and Ammo values:
* Guns are valued differently. We offer 60% of the "Blue Book Value of Guns".
* Ammunition is at the discretion of the staff. Partially used boxes are not accepted.

What kinds of items can I Re-Gear?
All items must be clean, in good working order, in sellable condition and all optics / electronics functional (if they need batteries your gift card will be debited). All items must be lawfully owned by the person participating in the Program.
* Firearms
* Holsters (top brands only please)
* Gear Bags
* Knives (top brands only please)
* Tactical Surefire Flashlights
* Optics (top brands only please)
* Ammunition in factory boxes, full boxes only.

Small Print

Why?
Openrange gives shooters a way to find new homes for gently used gear at affordable prices. This helps recycle products, is sustainable, cuts down on waste and probably saves our planet (less C02 and all!). The program gives an added source of revenue to Openrange so it can continue its mission of supporting the shooting sports.


NEITHER OPENRANGE OR THEIR RESPECTIVE OFFICERS, DIRECTORS, AGENTS, CONTRACTORS, BUSINESS PARTNERS, LICENSORS, EMPLOYEES, ASSIGNEES, AND SUCCESSORS-IN-INTEREST (COLLECTIVELY, THE "OPENRANGE PARTIES"), WILL BE LIABLE TO YOU OR ANY THIRD PARTY FOR ANY INDIRECT, SPECIAL, INCIDENTAL, CONSEQUENTIAL, EXEMPLARY, OR PUNITIVE DAMAGES OR LOST PROFITS, RELATING TO THE PROGRAM OR THESE TERMS AND CONDITIONS. YOU VOLUNTARILY AND UNEQUIVOCALLY WAIVE, RELEASE AND RELINQUISH ANY CLAIMS OR LIABILITY AGAINST THE OPENRANGE PARTIES. YOUR SOLE AND EXCLUSIVE REMEDY FOR ANY CLAIM ARISING OUT OF THE PROGRAM, INCLUDING DISSATISFACTION WITH ITEM CONDITION AND ANY TRADE-IN VALUE, IS TO CEASE PARTICIPATING IN THE PROGRAM