A .22 Caliber Fighting Pistol?
I can imagine my fellow firearm enthusiasts reading the title of this blog, and laughing at such a ludicrous idea, or questioning my credibility for asking such a question.  When the topic of using a .22 for self-defense comes up, the most common responses are "It won't work", or "It won't stop an attacker", or "It will only piss them off".  When I hear such comments, I will ask a simple question: "Have you ever heard of the Mossad?"  The answer to that question is usually no…...so a little background is in order.
In order to put this into perspective, we need to go back to the 1972 Olympics, in Munich, Germany.  As usual, the Olympics that year drew participating athletes from a host of nations and were widely televised.  Imagine the uproar when the Palestinian Group 'Black September killed 2 Israeli Athletes and kidnapped 9 others.  The short story is that those 9 hostages were also killed, and Israel ultimately decided to seek out and 'address' those who were responsible.  At this point the Israeli Mossad (intelligence service) enters the picture…. with solid capabilities of not only gathering intelligence but reaching out and touching folks when appropriate. 
A list of those responsible for the 1972 Olympic Massacre was compiled, and across borders and all over the globe, those names were checked off, one by one.
On October 16, 1972, Abdel Wael Zwaiter was waiting for an elevator at his hotel in Paris, France.  Two Mossad Gunmen approached him, each shooting him multiple times with Beretta .22 caliber pistols.  Mr. Zwaiter was checked off the list.
On December 8, 1972, Mahmoud Hamshari answered his telephone in Paris, France.  The telephone exploded, taking Mr. Hamshari with it.  His name was checked off the list.
On January 24, 1973, Hussein Al Bashir laid down in a bed in a hotel in Nicosia, Cyprus.  The bed exploded, and Mr. Al Bashir was checked off the list.
On April 6, 1973, Basil Al-Kubaissi was approached on a street in Paris, France by two Mossad Gunmen, who shot him multiple times with Beretta .22 caliber pistols.  Mr. Al-Kubaissi was checked off the list.
On April 9, 1973, Israeli Sayaret Commandos in conjunction with Mossad raided guarded houses and apartments in Lebanon, Beirut.  The commandos were dressed as civilians, with some of them dressed as women.  The idea was to pose as couples so that they could get closer to the guarded areas.  Several guards were eliminated with suppressed Beretta .22 pistols, after which the Commandos and Mossad continued the attack inside the perimeter with Uzi Sub-Machine Guns.  At least three names were checked off the list.
These Mossad Operations continued for many years, across many borders.  The list remained active.  For example, on June 8, 1992, Atef Bseiso was in his hotel in Paris, France, when two Mossad gunmen walked into his room.  His name was checked off the list.
In each of the instances where Beretta .22 caliber pistols were used, it was two gunmen shooting multiple shots.  Would this work if there were one gunman armed with such a pistol, facing other gunmen? To answer this question, let's look at the Israeli Sky Marshals.
On February 18, 1969, four members of the Popular Front for the Liberation of Palestine, armed with AK47s and Grenades, attempted to hijack El Al Flight 432 in Zurich, Switzerland.  Israeli Sky Marshal Mordechai Rachamim counter attacked with his Beretta .22 caliber pistol, killing one of the hijackers, and helping to capture the others.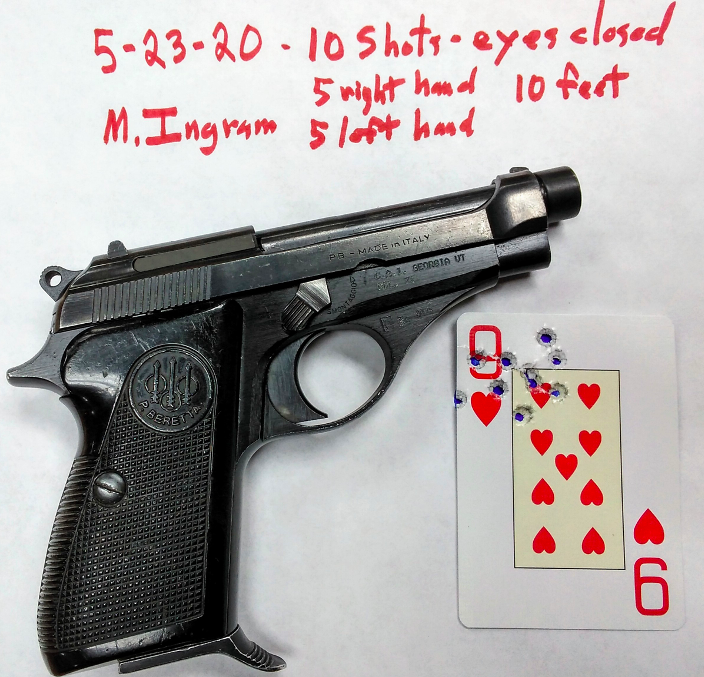 (Beretta .22 Pistol - Fired by Marlan - 10 shots, eyes closed at 10 feet - All in the corner of a playing card)
The Beretta Model 71
On May 8, 1972, four members of the Palestinian group Black September hijacked Sabena Flight 571, forcing it to land at the Lod Airport in Israel.  The Black September group was armed with pistols, grenades, and explosive belts.  On May 9, the Israeli commando group Sayaret Matkal, along with Mordechai Rachamim, assaulted the group, killing two, and capturing two.  Mordechai is credited with eliminating one of the Black September members…...once again with a Beretta .22.
We mentioned Beretta .22 pistols several times, and we are generally referring to the Beretta Model 71, and Model 70 pistols.  The Model 71 has an alloy frame, whereas the Model 70 has a steel frame.  When researching Mossad lore, the Model 71 is the pistol most often mentioned.  The pistol is sleek, balanced, with great ergonomics.  It gives a feeling of being a compact and adequate fighting pistol.  It's accurate, and is known to be very reliable, something that I can personally attest to. 
Although I'm privileged to have received some Israeli Combative Pistol training, I use my Beretta Model 71 in a 'natural point of aim' drill that I learned when I attended the Smith & Wesson Academy several years ago.  I've owned and shot my Beretta Model 71 for several years, and I've had NO issues with it.  I like and trust the pistol.
With that said, am I recommending .22 caliber pistols as primary self-defense tools?  On one hand, no I'm not.  The appeal that smaller caliber pistols had 'back in the day' was size…..they were generally smaller and more concealable than service caliber pistols.  However, we now have a host of pistols in 9mm caliber that are quite small and concealable……rivaling the Beretta Model 71 in size.  So, my recommendation in a self-defense pistol is still generally 9mm or better – provided that the individual can handle that caliber.
Still, I also can't bring myself to tell people that a .22 'won't work', or that it will only 'piss them off'.  In response to such comments, I often ask a simple question: "Have you ever heard of the Mossad?"