Gold Class - EXCLUSIVE - 007 of 250 
When it's time to sit down with friends and celebrate by opening that 30-year-old scotch and share those world-class cigars, you need to make that cut, for that perfect moment. Our new patent-pending design and AXIS lock mechanism specifically tuned to create that perfect cut time and again. Each part of this exquisite cigar cutter is hand finished by our expert craftsmen using the finest materials available. Limited to just two hundred and fifty pieces.
RING GAUGE: 56
BLAGE THICKNESS: 0.090" [2.286mm]
OVERALL LENGTH: 4.15" [10.54cm]
WEIGHT: 4.20oz [119.07g]
HANDLE THICKNESS: 0.51" [12.95mm]
PRODUCT BOX: 10.63" X 3.13" X 1.89"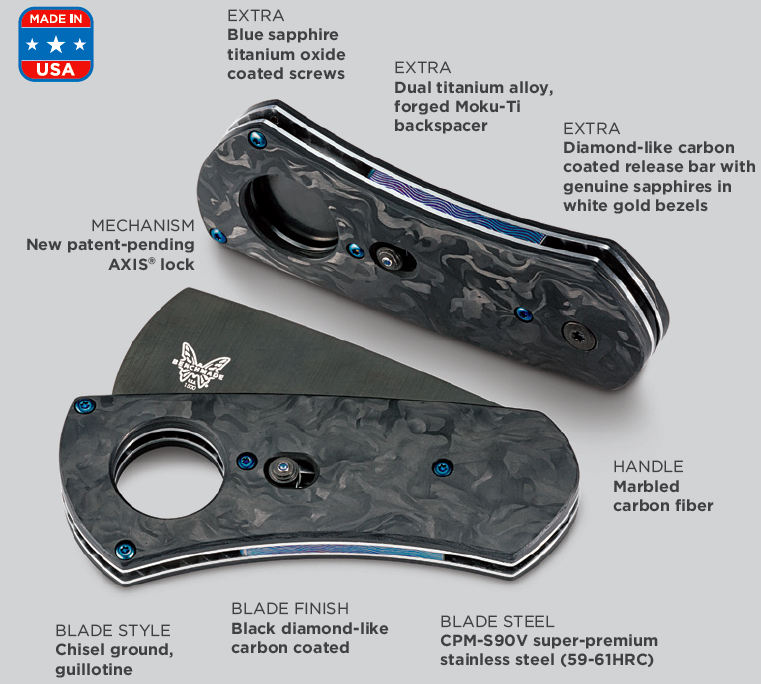 When shopping for a Gold, Black or Blue class Benchmade knife in the Louisville area.  Look no further than Openrange.  Openrange is the areas only Premium Plus Dealer with the largest Benchmade showroom, stocking a diverse selection and Benchmade knives and accessories, including Automatics, folding and fixed blade knives along with rescue hooks.
All Benchmade knives come with Benchmade's LIFESHARP SERVICE

There's never a dull moment with a Benchmade... That's right! We will gladly re-sharpen your Benchmade knife to a factory razor sharp edge (service does not apply to any serrated portion of the blade). If you prefer us to sharpen your blade, or if you may have neglected to maintain your edge for a while, simply ship your knife to us (Automatic knives may need to shipped to and from Openrange to insure they are returned correctly). We'll not only sharpen it, but we will also inspect the knife for any warranted repairs and "tune" the knife for optimum performance.